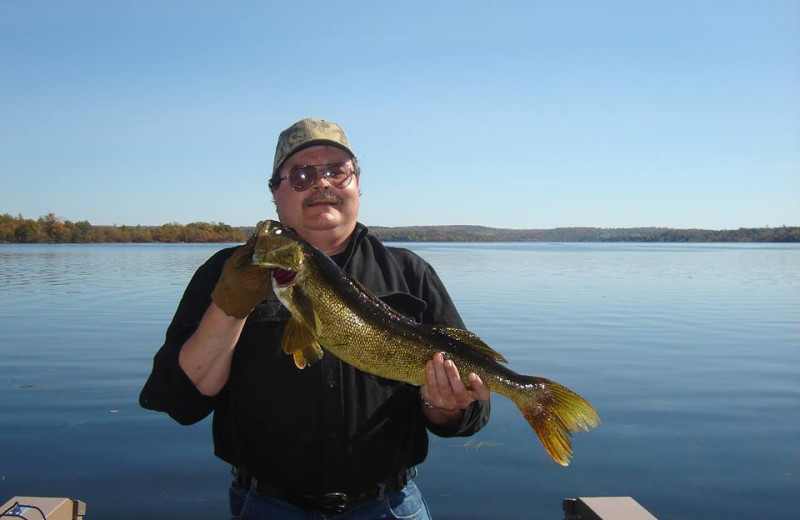 Watching a sunrise or sunset. Keep an eye open, you never know what you will see or hear, from the majestic bald eagle, osprey, blue heron, loon, robin, blue jay, or woodpecker.
With a lake like Rice Lake, there are all kinds of fish species as well, from turtles, frogs, toads, and minnows.
Fish include Perch, Rock Bass, Bluegill, Sunfish, Crappie, Brown Bullhead, Carp, Lake Herring, Large Mouth Bass, Small Mouth Bass, Walleye, and Muskie. So keep your eyes and ears open, you never know what you'll catch.
Make this year your trophy fishing year for Muskie, Bass, Walleye, Blue Gill, Perch, and Crappie.
Walleye Fishing
Rice Lake is very popular for its excellent Walleye fishing. You can find Walleye in the lake throughout the year, but spring and fall are typically the best seasons. You can hire a guide to help you choose the best jigging rod for walleye, right tackle, techniques, and fishing spots.
You can find Walleye in the shallower water during the spring, often near areas with gravel or rocks. But, during the fall, Walleye move to the deeper end of the lake.
Warsaw Caves Fishing
The Warsaw Caves Conservation Area is one of the most peaceful and scenic fishing spots in the Otonabee Region watershed. You can catch a variety of fish species including perch, sunfish, and smallmouth bass.
The best way to enjoy fishing at the Warsaw Caves is by paddling a boat or a canoe downstream along the Indian River. There are many access points for boats and some of them have boat ramps that let you launch your boat right there.
You can also fish from the dock at the canoe launch if you are looking for a convenient fishing spot for beginners. Just drop a line and see what you catch. You can check out the 10 best fishing rod and reel combos for beginners if you need fishing gear to get started.
The ideal weather to fish at Warsaw Caves Conservation Area is from May to October as the water levels are high enough for boats. But, the river flow can vary throughout the season. So, check for any changes in water levels before starting your trip.
Other Activities
We offer a wide range of activities to suit every interest and age group. You can swim in the crystal-clear waters of Rice Lake or try tubing or skiing behind a boat.
Our dock is a great place to try your hand at fishing. Or, you can rent a canoe or kayak and paddle along the scenic shoreline of Rice Lake.
We also host fishing derbies, competitions, and trophy fishing events throughout the season. We can help you find the best fishing spots on the lake to catch a variety of species.
There are plenty of opportunities for walking, hiking, and biking to explore the natural beauty of the area. You can visit the Festival of Lights, the Art Gallery of Peterborough, or the Canadian Canoe Museum. History buffs will love Lang Pioneer Village and the Petroglyphs Park.