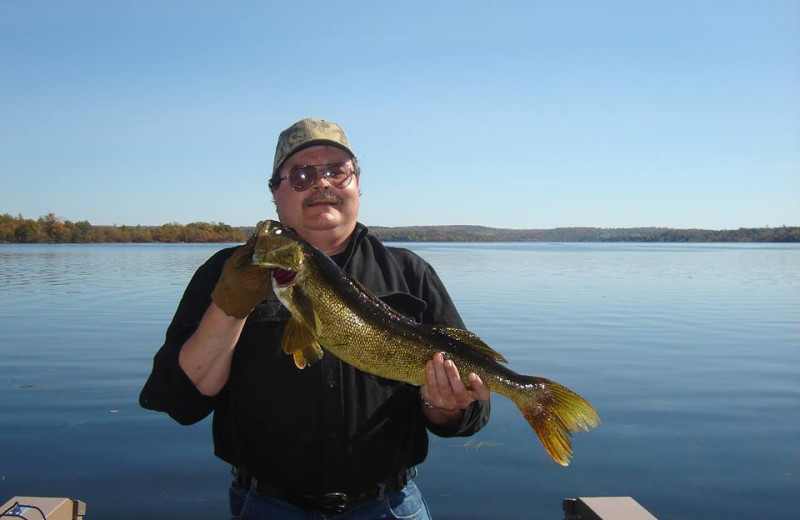 Watching a sunrise or sunset. Keep an eye open, you never know what you will see or hear, from the majestic bald eagle, osprey, blue heron, loon, robin, blue jay, or woodpecker.
Muskrats, beavers, fishers, and minks are among the mammals in the area as well as whitetail deer, moose, and even elk. With a lake like Rice Lake, there are all kinds of aquatic life as well, from turtles, frogs, toads, and minnows.
Fish include Perch, Rock Bass, Bluegill, Sunfish, Crappie, Brown Bullhead, Carp, Lake Herring, Large Mouth Bass, Small Mouth Bass, Walleye, and Muskie. So keep your eyes and ears open, you never know what you'll catch.
Make this year your trophy fishing year for Muskie, Bass, Walleye, Blue Gill, Perch, and Crappie.
Activities Around the Resort
Swimming
Tubing & Skiing
Fish Derbies
Fishing from the dock
Sportfishing by JacobWheelerFishing.com
Fishing Competitions
Trophy Fishing
Freshwater Fisheries
Basketball
Horse Shoes
Swing Set
Nature Watching
Canoeing & Kayaking
Sunbathing
Hiking & Biking
Walking to Serpent Mounds or Keene
Activities Nearby
Festival of Lights
Art Gallery of Peterborough
Canadian Canoe Museum
Lang Pioneer Village
Peterborough Sports Hall of Fame
Petroglyphs Park
Hockey Schools
Warsaw Caves Fishing
The Warsaw Caves Conservation Area is a great place for fishing. There are many fish species that can be caught there. The most common ones are sunfish, smallmouth bass, and perch.
You can use even your fishing rod and reel for beginners to drop a line from the dock or paddle a canoe down the river from the Warsaw Caves Conservation Area.
The best way to enjoy fishing at the Warsaw Caves Conservation Area is by boat. There are many access points for boats on the river. Some of them even have boat ramps that allow you to launch your boat right there.
The ideal weather to fish at Warsaw Caves Conservation Area is from May to October. The water levels are high enough during these months for boats.