Welcome to Anglers' Retreat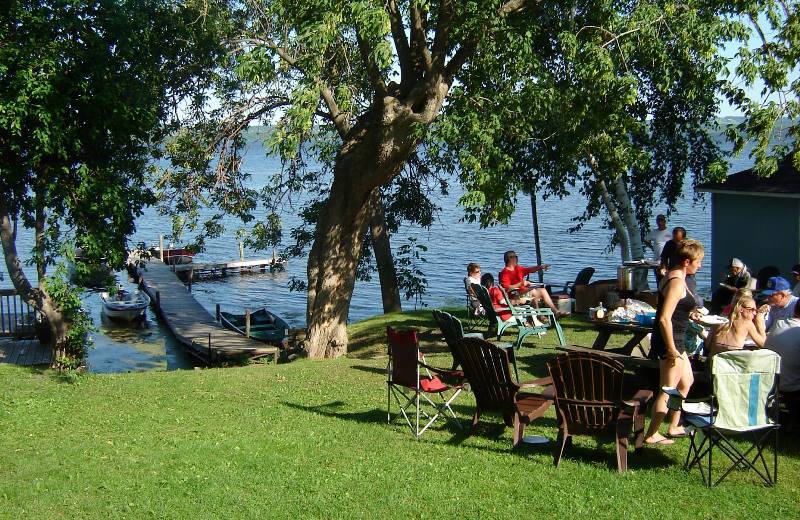 Anglers' Retreat is a great fishing resort where there is fun for everyone, young or old. You can enjoy canoeing, kayaking, swimming, and a variety of boat rentals. There are children's fishing derbies, a playground, a beach, horseshoes, basketball, tetherball, games, crafts, and a store. Nearby, there are golf courses, horseback riding, a free zoo, shopping, and the great Peterborough Festival of Lights.
If you are planning for Fishing on Rice Lake, then Anglers' Retreat offers a quiet sheltered bay on the north where you are sure to catch your fill. It offers fabulous fishing of all kinds of fish species in Rice Lake like Muskie, Large and Small Mouth Bass, Pickerel, Walleye, Blue Gill, Perch, Crappie, and other Pan Fish.
Cottage and Boat Rentals
Relax in waterfront cottages, and fish until your heart's content. The fish populations are nothing short of spectacular. Rice Lake also offers ice fishing for Pan Fish such as crappie, perch, and sunfish.
All our cottages are fully equipped, clean, and on the waterfront. They range from one to four bedrooms starting as low as $400.00 for two people for one week. Boat rentals are from 2:00 pm Saturday to 7:00 pm Friday. For more information, please check out our Pricing page.
Fishing Gear Rentals
We provide top-of-the-line fishing rods and reels for rental, as well as live bait and all necessary fishing tackle. We also welcome you to bring your own fishing gear and have a great time catching fish.
If you are looking for a buying guide to help you choose the right fishing gear, be sure to check out the best spinning combos at OGO Fishing – they recommend some good products that can help you catch more fish.
Contact Us
We are a clean and friendly family fishing resort on the North Shore of beautiful Rice Lake. It is fifteen minutes to the City of Peterborough and one and a half hours North East of Toronto.
Feel free to contact us for all kinds of questions and advice. We'll happily answer any questions you have about fishing at Rice Lake, our cottages, boats, gear, tackle, or guided tours.